Tara Sabzvari—McMaster Univeristy Honours Life Sciences 2020
The unprecedented COVID-19 pandemic has been an eye-opening experience, giving us insight into our unmet needs as a society. It has become increasingly clear that we are highly dependent on the advancement of medical technologies to provide us with extensive prevention methods, efficient diagnosis techniques, and quick turnaround times in both an affordable and viable manner to meet our medical concerns.
17 years ago, one ambitious Stanford drop-out went to great lengths to bridge a gap in our healthcare system that had the potential to drastically improve the landscape of medicine in the 21​st​ century.
In March of 2004, Elizabeth Holmes had just dropped out of Stanford University and established her Silicon Valley biotechnology company, Theranos Naotainer [1].
She pitched her invention, the Edison machine, as a semi-portable device that only needed a single pinprick of blood to perform hundreds of medical tests, from a routine cholesterol check to more involved genetic testing and cancer detection. The charismatic Ms. Holmes promised that the results would be faster, more accurate and far cheaper than the conventional methods used today.
To fund this initiative, Elizabeth Holmes was strategic in seeking out wealthy millionaires who were not versed with any medical knowledge and she solicited them for funding. News about this cutting-edge technology was spreading and it caught the attention of Walgreens and the Cleveland Clinic, inspiring them to adopt this technology [2]. She soon became an iconic figure, making buzz in the biotech industry and media, booking interviews and gracing the front page of renowned magazines such as Forbes — even earning the title of "the youngest self-made female billionaire in the world."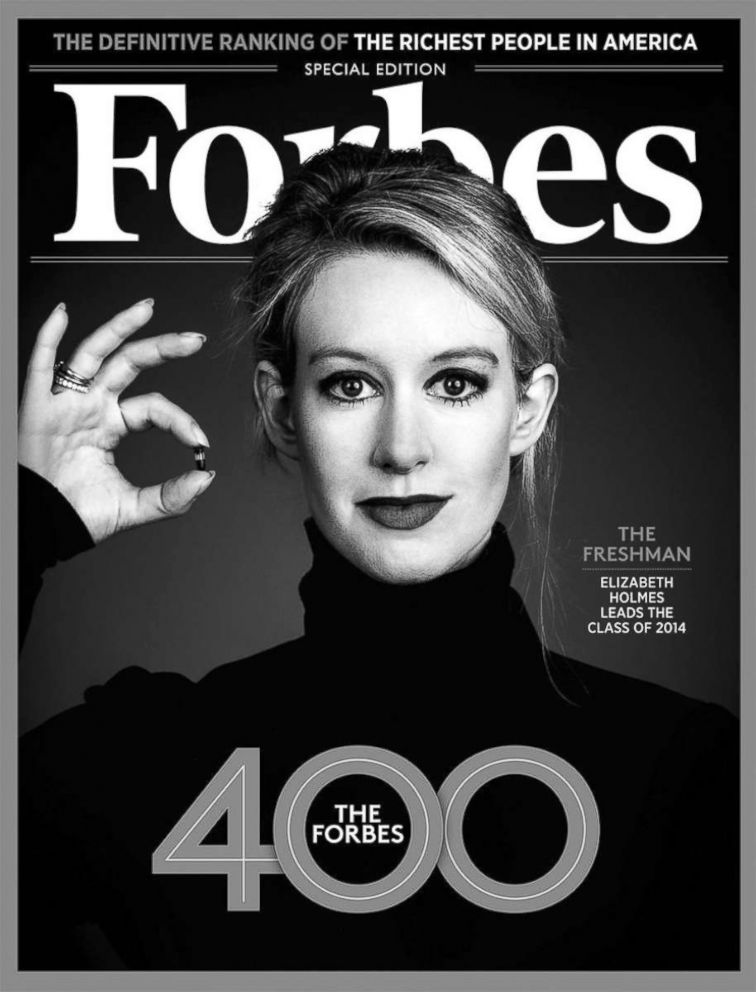 Unfortunately, she did not hold this title for long as her magnetism did not translate to retaining employees or fostering a healthy work environment. She was seen as toxic by her employees who claimed that she would fire anyone that undermined her. In fact, according to The Verge, in 2016 she fired 340 members and in 2017 she fired 155 employees, nearly 40% of her staff [3]. However, what really tainted Theranos' image was that Elizabeth Holmes became the subject of many investigations, most notably by Vanity Fair's Nick Bilton [4].
She was soon found guilty of fraud and indicted with federal charges [5]. Through deceit and manipulation she had made false promises of a technology that was out of reach and she had capitalized on funding from investors and buyers. Elizabeth had mastered the art of persuasion and fooled many with her imitation of a deep masculine voice and embodiment of other iconic figures such as the donning a classic Steve Jobs black turtleneck or the Mark Zuckerberg stare [6] However, behind closed doors she was using the conventional technology made by Siemens to run medical laboratory tests, meaning that there was no viable Theranos Edison device all along.
In conventional blood tests, typically several vials of blood are taken in order to ensure the accuracy of the results when running multiple tests. At Theranos, they were diluting the "pin prick" samples to mimic the standard sample volume of the standard tests.
Elizabeth's manipulative and calculating mindset was able to take her farther than anyone could have imagined. Ultimately, she lacked the knowledge, experience and technology to make the Edison device a reality and her attempts to compensate for this downfall through fraud backfired. Amidst this cautionary tale lies one silver lining: to this day, Elizabeth Holmes is gaining attraction through New York Times Best Seller Books, HBO documentaries, articles, videos, and the memorable parody by the Late Late Show's James Cordon.
It is important to ask, would such a technology have outstanding implications for the health of our society, especially given the current pandemic? Certainly. However, is such a biomedical feat within our reach? Not just yet.
While most of us would love to live in a world that does away with all the nuisances of blood tests (I think it's fair to say that no one likes being poked with a needle), it seems like we will have to sit patient until our diagnoses can be performed with a single prick of blood, should that day ever come.
References